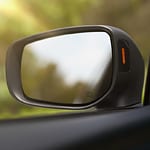 Changing lanes is routine action drivers take, but some drivers find the simple process of going from the right to the center lane leads to an accident. Drivers don't always see other vehicles or even pedestrians when dealing with blind spots. So, manufacturers may add a blind-spot monitor as part of the model's safety features.
A blind-spot monitor uses a sensor that intends to detect "hidden" cars, bikes, joggers, and others in areas the driver cannot see. Blind spots may be to the rear or side of the vehicle, and anything in a blind spot might not show up in a mirror. The sensor provides alerts when something enters the blind spot.
Blind-spot monitors, along with other safety features, could decrease the chances of an accident. Drivers must still look over their shoulders and perform other safety steps, too.
Mabry Auto Group in Lynchburg, VA offers several models with blind-spot monitors. Please look over our inventory today.