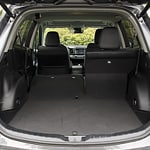 When you're shopping for a new vehicle at Mabry Auto Group, you have lots of choices. If you can't decide between a car and an SUV, a crossover could be a great choice. Whether you're running errands around Lynchburg, VA, or taking an epic adventure, these capable vehicles make the journey more fun.
Like cars, many crossover vehicles ride on top of a unibody frame. This structure delivers a smooth, easy ride that keeps you comfortable on short and long trips. It also makes for effortless handling, which comes in handy in stop-and-go traffic.
If you're searching for a vehicle with extra storage space, a crossover fits the bill. With more cargo room than a car but less than an SUV, they're ideal for everything from sporting events to family vacations. The cabins also offer plenty of headroom and shoulder space, so you can transport adults or kids with room to breathe.