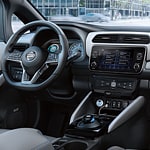 Nissan's LEAF has been one of the most popular electric cars on the market since its debut in 2010. The car has undergone several facelifts and improvements over the years, but the biggest change for the 2022 model is its new battery system. The LEAF now comes with a 62 kWh battery pack, giving it an estimated 226 miles per charge range. This is a significant increase from the previous model's range of 150 miles.
In addition to the new battery system, the 2022 LEAF also comes with a few other notable changes and improvements. These include LED headlights and taillights, a revised front fascia, new wheel designs, and updated interior materials.
Regarding technology, the 2022 LEAF comes standard with Nissan's ProPilot Assist driver assist system. This system can help the driver with tasks such as keeping the car in its lane and maintaining a safe distance from other vehicles. The LEAF also offers an optional e-Pedal mode, which allows drivers to accelerate and brake using only the accelerator pedal.