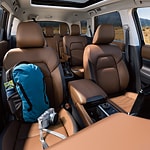 The 2022 Nissan Pathfinder here at Mabry Automotive Group in Lynchburg, VA offers a variety of performance features for its fans. First, the Pathfinder has a standard 3.5-liter V6 engine that produces 284 horsepower and 259 lb.-ft. of torque. This should be plenty of power for most drivers and will help the Pathfinder get up to speed quickly.
The Nissan Pathfinder has a standard front-wheel drive, but drivers who want more traction and control can opt for the available all-wheel drive system. This is especially useful in inclement weather or when driving on rough roads.
The Nissan Pathfinder also comes with standard brakes and suspension, which should help drivers stay in control while driving. The Nissan Pathfinder's brake system includes ABS with Electronic Brake Force Distribution, which helps to evenly distribute the braking power between the front and rear wheels. This helps to prevent the Nissan Pathfinder from skidding or hydroplaning when braking.
The Nissan Pathfinder's suspension system includes a strut-type front suspension and a multi-link rear suspension. This helps to provide a smooth and comfortable ride, even when driving on rough roads.